Although Body Serum Malinna° can be used in the same way as shower gel, its functions far surpass ordinary shower gels. Read about its benefits and all the different ways Body Serum can be used to improve your skin health.
The Body Serum Malinna° combines high amounts of healing botanical oils processed together with sea salt in the Malinna° patented process that makes the oils water soluble without the need for emulsifiers or other additives. This makes our body wash exceptionally rich in minerals, vitamins, and a wide range of antioxidants. The product is highly concentrated and will last you longer than traditional gel cleansers. You only pay for the active ingredients and not fillers.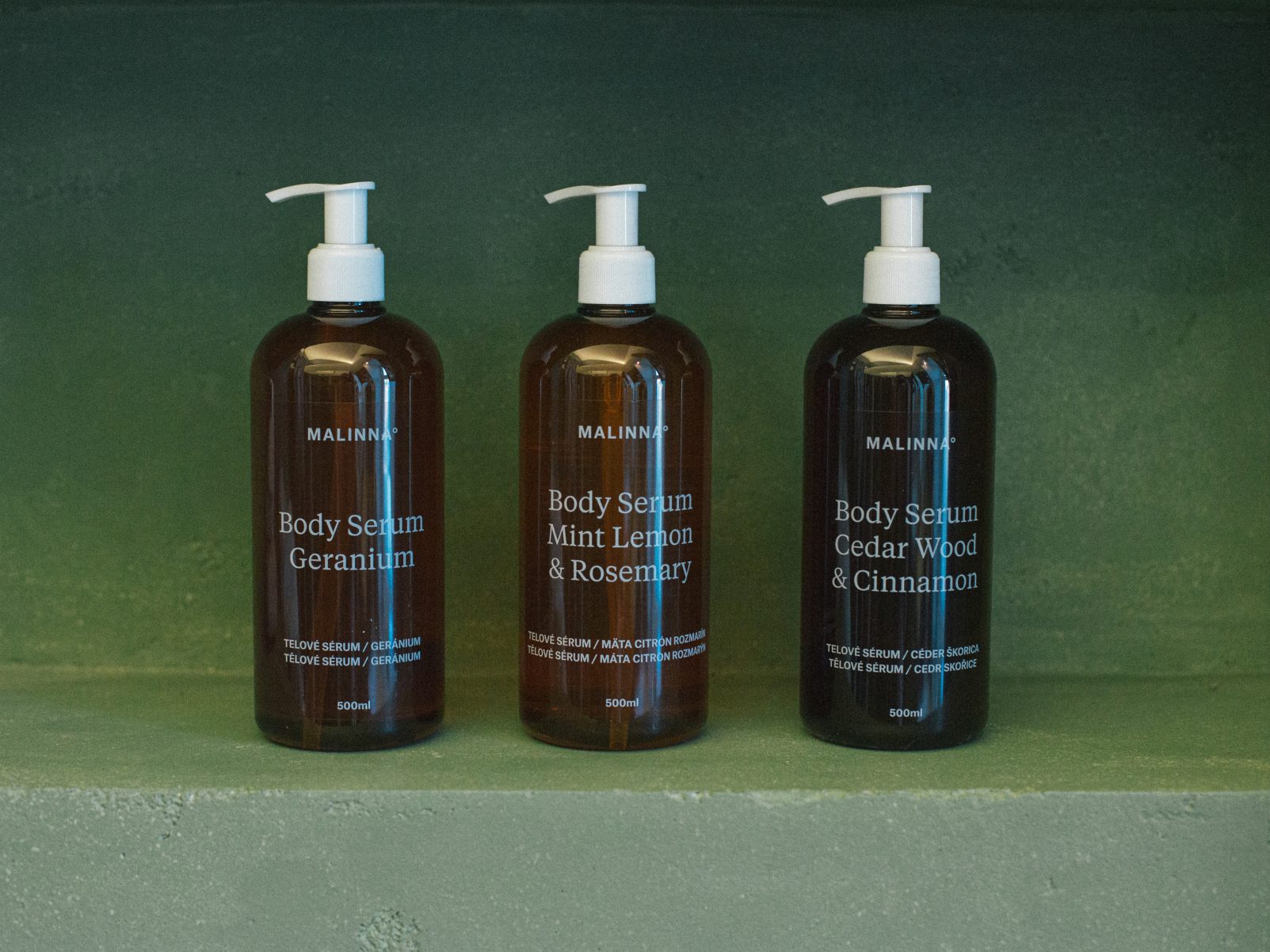 Nourish, cleanse, restore the skin barrier, and aromatherapy all in one product.
We pay less attention to the skin of the body than to the skin of the face and neck, but this is doing our body a disservice. Body Serum Malinna° combines several benefits that you can indulge your skin in while showering. Rinse the skin first and then apply the serum. It is not only pleasant, but also very useful, especially if you let it soak into the skin which allows nutrients and minerals to get deep into the skin while you will enjoy its aromatherapeutic effects.
Comes in three scents: Mint Lemon & Rosemary, Geranium, and Cedarwood & Cinnamon.
Body Serum for problematic skin.
If you suffer from acne on your back or neck, let the serum soak into the skin for as long as possible while showering. After showering, we recommend spraying the affected areas with Skin toner. Similarly, you can apply it to skin inflammation, insect bites, or other types of irritations. The serum contains a high concentration of Neem oil, among other oils. Neem oil is traditionally used for healing various acute and chronic skin conditions like acne, psoriasis, eczema, and even warts.
Body Serum as a facial cleanser.
Body Serum has similar effects to Skin Serum. While showering, you can apply it to the skin of the face and neck in the same way as Skin Serum. Pump the serum into your hands and massage it into damp skin. Avoid the eyes. Then, rinse with water. Follow with any of the Malinna° creams directly or skin toner and then cream.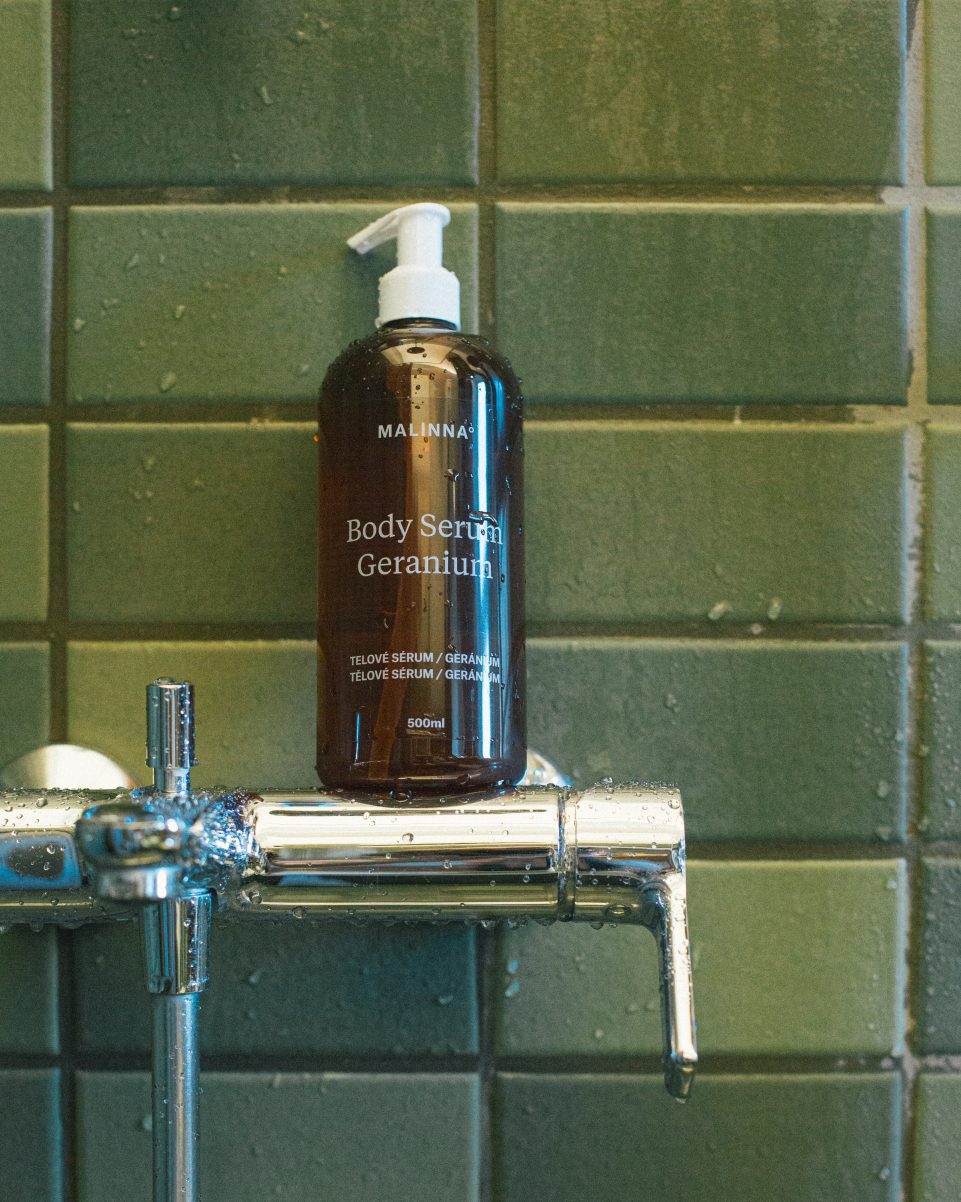 Body Serum as scalp treatment or shampoo.
Body Serum can also be used to wash and strengthen the scalp, roots, and for itch relief. Rinse the hair and then massage the serum into your scalp. Leave it on for several minutes and then rinse. If you are going to use Body Serum as shampoo, it is important for the hair to be washed and to create thick foam when washing. Depending on the water quality, sometimes this only happens with the second application of the Serum. After the foam forms, rinse well with warm water.
Body Serum as Foot Treatment.
Body Serum is an excellent addition to your home pedicure. First, let the feet soak in warm water (ideally mixed with sea salt). After a few minutes, when the skin is soft enough to remove dead skin, rinse the feet and nails and apply Body Serum. Wrap them in a plastic bag and leave for about 15 minutes. Then wash, dry, spray with Skin Toner, and follow up with Foot Cream Oregano. We recommend this foot care routine as protection against fungus, cracked heels, warts, and other conditions.
Body Serum and Sauna.
Perhaps the most effective form of using Body Serum is in the sauna, when the pores of the skin are open. Before entering, take a shower and apply a thin layer of the serum to damp skin, and complete one sauna interval. After exiting the sauna, take a shower and use the cooling pool. You can repeat the treatment with Body Serum. In sauna and wellness facilities, we recommend using Skin Toner to protect the feet from fungal diseases.
Body Serum and Sustainability.
More and more people are concerned about what happens to cosmetics after we wash them off our skin. You can breathe easy with all Malinna° products. Body Serum is also safe to use outdoors. After mixing with the water, air, and sun, it biodegrades almost immediately and becomes a natural fertiliser. It comes in maxi packaging, so you don't need to frequently repurchase. If you are from Bratislava and surrounding areas, we recommend getting a refill in our store. If your body serum pump is still functional, purchase the serum with cap instead and simply reuse the pump from your previous bottle as it cannot be recycled.
How long will it last?
Body Serum is highly concentrated and will last a long time. In my home, it lasts about 45-60 days for three family members. You can also dilute it according to the instructions on the Cleansing Foam bottle and use it for shaving, showering, and more. It should be used within 6 months. If it is open for a long time and little product remains, it can lose its scent.